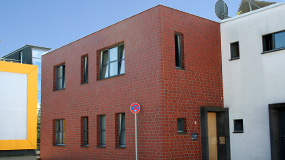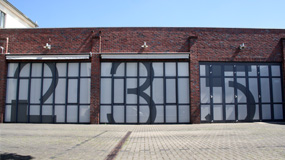 We develop and implement projects for:
Companies, institutions, museums, trade shows, presentations.
Our customers come from:
Industry, art, culture
Our mission:
Designing and realising technically sophisticated interactive media productions with complex editorial content.
Our slogan:
towards an aesthetic of communication
Our company headquarters in Cologne is spread over two buildings:
Building 1: Am Kölner Brett 6
Project management, technical management, art direction, design, graphics, text and editorial, administration
Building 2: Am Kölner Brett 1
Technical planning, technical staff, IT management and support, electronic laboratory, programming, video editing, showroom, screening room for large format media installations.
Dedication to media art
235 MEDIA has been involved with the presentation of video art since its founding in 1982, and has, as an agency, represented more than 100 media artists from 15 countries, with over 800 video works and countless interactive and computer controlled artworks and installations around Europe. Furthermore, 235 MEDIA has established an extensive archive with over 3,000 works, which are gradually being digitalised, restored and made accessible to the public. In 2002, in cooperation with the city of Dusseldorf and the state of North-Rhine Westphalia, as well as the state's Art Foundation, the charitable trust imai – or intermedia art institute – was set up, to manage the conservation and the scientific maintenance of the archive and to oversee distribution.
Alongside its role in the presentation of video and media art, 235 MEDIA has been focused for more than 20 years on projects that thematise the status of media art within society and its relationship to other art forms.
The spectrum of activities in the field of media art ranges from the organisation of exhibitions and special programs for festivals and museums, to lectures and large scale projects. These include the Electronic Café at the documenta 9 and the Biennale di Venezia, the series of media art exhibits in the Art and Exhibition Hall of the Federal Republic of Germany in Bonn, and the artistic direction of the vision.ruhr exhibition in Dortmund.
Further information: www.stiftung-imai.de